Winterproof Your Work Boots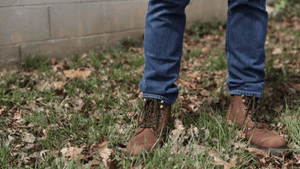 The winter months are coming and that means longer nights, cooler air, and the potential for ice and snow. Even the best work boots might need an upgrade to keep up with the changing weather - namely conditioning and waterproofing.
Cleaning
First things first, make sure to clean and condition your boots. You should be doing this regularly, but it's a good idea to do a deep clean between seasons. Dirt and grime can easily build up in the cracks and folds of the leather, and need to be thoroughly removed before applying any conditioning or waterproofing treatments. Check out our tips for cleaning your boots for more detailed instructions. 
Conditioning 
Remember, natural materials like leather need to be treated with nutrients and oils just like your own skin. Colder, drier air means your boots' leather might get stiff and uncomfortable. Conditioning them with leather treatments like mink oil can help maintain its suppleness so that they're still soft and flexible during the winter time. 
Waterproofing
Regardless of whether or not your shoes have been waterproofed before, this is a good time to double up on protection. Even the best waterproof boots need to be refreshed over time. 
In some cases, conditioning and waterproofing go hand in hand. Treating your boots with mink oil, for example, checks off both boxes. Other treatments like waxes, creams, and sprays all have their pros and cons. Waxes and creams will probably hold up better during sprays over the winter. 
You may also want to apply a seam sealant in order to ensure your boots are totally waterproofed. The seams are often the weak spot where moisture usually finds its way into the interior of the boot. 
Other cold weather tips: 
Go for 100% wool socks.

They're probably one of the best materials to wear year round. On top of being soft and thick enough to be its own layer of cushioning, they're naturally moisture wicking so that your boots stay dry on the inside - which is key to staying warm during the winter

without overheating

.

De-salt your boots:

Salt stains are all too common during the winter. Not only are they unsightly, they can dry out and harden your boots' leather. Get salt stains out of your boots as soon as you can by cleaning them with a water (1 cup) + vinegar mixture(1 tbsp).  

Don't slip:

If you're likely to encounter ice while working, you should invest in ice grips to attach to the soles of your boots. No slip ratings are tested for water and oil hazards, not ice.  
It's important to stay up to date with your boot maintenance so that they not only stay comfortable, but are also ready for whatever winter may bring. Taking the extra precautions to stay warm and dry will pay off once the weather becomes harsh. 
Learn more about the styles and features of EVER BOOTS products here
Leave a comment
Comments will be approved before showing up.