This Ultra Dry Boots is the Future of Landscaping Foot Protection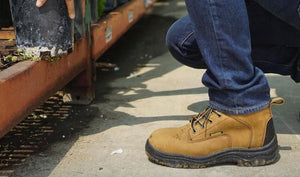 What is the best boot for landscaping? You are looking at the one right here from Ever Boots, and you will not want to look away because it is such a masterpiece. Yes, it is one of those things that you would wish was made a lot sooner than you expected. The landscaping work boots were made using the best materials that they could ever get their hands on.
The moment you put on the landscaping work boots of Ever Boots, you know it is such a great match that you will not think of taking it off anytime soon. You can't blame yourself for doing that as you ended up with a purchase that is worth every penny.
Outstanding Durability
It is great how they made the dry boots last for quite a few years. Now, you won't have to worry about buying another pair of work boots for quite a long time because the pair you have from Ever Boots is here to stay. You know you will still use it the same way ten years from now, no matter what the surroundings are. These things were made to last through tough working conditions.
Even when you are working at a construction site, you don't have to worry about the condition of the dry boots while you are using them. After all, they attached a nice warranty to it, meaning they are indeed confident about the capabilities of their contractors. If that is not the case, then they would not attach a long warranty to it. It could be short, or there may be none at all. Better avoid deals that have no warranties if you are the buyer.
Nice Comfort
The construction work boots will make you perform well because it feels great to wear them. It goes to show how much Ever boots care about how their clients perform at work. Indeed, you will need to perform well so that other people would know how it would feel when you would want to take it out for a walk, even if it is not working time. It would still feel great even without wearing socks.
The last thing you would want to happen is to get blisters from wearing landscaping work boots, and Ever Boots made sure that won't happen. They tried and tested each one of their boots before releasing them to the public. There is no shortage of positive reviews about what this company has done to increase the solidness of its reputation. They know they need to take care of that by releasing excellent products to the public.
Amazing Look
It is easy to clean, and the shoes' looks will make you feel great about what you have to show for. Yes, it is one of those things that will indeed make it back to you when you find out how long it has been since you went out and worn something worthwhile. It would feel wonderful to go out there and feel great about yourself because of what you are wearing. When you get compliments, that will increase your self-esteem and build up your confidence in ways that have never been done before.
There is no doubt these are the best landscaping work boots that you will ever come across, and you will not pass by anything else that would come close to it. Besides, you will want to happen when your life depends on it as it would feel great to show off the taste you have in landscaping work boots. Other people would look up to you when they see that you are wearing such nice boots.
Our feet are the most abused part of our bodies each day, so we must make an effort to take good care of them. One excellent way would be to invest in the best landscaping work boots as you know that would make your feet free from blisters. Also, you won't catch yourself looking forward to taking off these landscaping work boots due to how comfortable they feel, no matter which
socks you decide to pair them with
.
Leave a comment
Comments will be approved before showing up.