Best Boots for Landscaping in 2021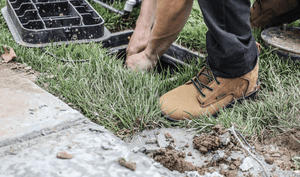 Whether you're a professional landscaper or someone who just likes to take care of their own yard, a good pair of work boots are a must to make sure you get the job done safely and comfortably. 
Landscaping is one of those jobs that require that you know how to do a little bit of everything. You could be mowing lawns, trimming trees, or spreading mulch all in the same day. So in order to be ready for any task at hand, you should be equipped with a super versatile pair of boots. 
Features to consider for the best landscaping work boot: 
Weight
When you're constantly on the go, moving from one task to another, a lightweight boot will definitely be your friend. You'll be quicker on your feet and less likely to experience foot pain and fatigue. A lighter boot will likely mean forgoing any sort of steel toe, but if it's not 100% necessary for the jobs you're doing, that shouldn't be a problem. 
Waterproofing
Working outside means dealing with the elements. And when you're likely to encounter moisture from things like rain, mud, or snow, a waterproof boot will keep you dry and comfortable. If water can get into your boots, it can not only cause chafing and blisters, but it can also lead to odors from fungus and bacteria growth. So keeping water out is a priority. 
Breathability
Of course moisture can also build up from the inside of your boots as well. So to minimize the adverse effects of sweat buildup, you'll need a pair of boots that are breathable. A mesh lining in the interior of your boots can help ensure that you stay dry, even if your boots are completely sealed and waterproof. The mesh's moisture wicking properties can help push moisture away from your feet so it can evaporate more quickly. 
Support
Landscaping might require that you have to walk or stand on various different terrains for potentially extended periods of time. So the soles and midsoles of your boots must provide enough cushion from impact while also being flexible and lightweight. That means you probably don't need a steel shank here, to make sure you can still move light on your feet. 
The Ultra Dry is made from a waterproof full grain leather and made with a unique seal-direct attach construction. The lining, lacing, and stitching are also completely waterproof. Plus the mesh insulated liner not only keeps your feet warm in wet, cold conditions, but also wicks away moisture. 
Not only does the Ultra Dry cover all of your bases, it's very reasonably priced compared to similar boots on the market. So they're a worthwhile investment, even if landscaping isn't your profession. 
--
At Ever Boots, we pride ourselves on our making high quality, durable boots for a very reasonable price. We believe that we can still use the best materials, NOT cutting corners, and still offer the best for our customers. And for the past five years, we have.
Learn more about the styles and features of EVER BOOTS products here
.
Leave a comment
Comments will be approved before showing up.