Why you should choose waterproof work boots over water resistant boots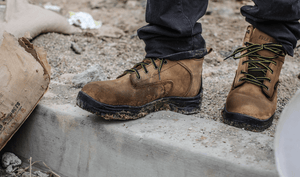 For some work boot wearers, waterproofing is an added bonus, but for others, it's a must-have feature for the job. A lot of brands offer waterproof options in their product lines. Having damp shoes can be really uncomfortable, but it's especially bothersome while working. The friction can often lead to blisters, the moisture and warmth invite bacteria, fungi, and odors,  and it's just plain uncomfortable. 


What's the difference between waterproof and water resistant work boots? 
Waterproof boots are completely impervious to water - meaning that everything from the sole's attachment to the laces and stitching are fully waterproof. Some also come with a completely waterproof lining, usually made of Gore-tex or other synthetic materials, which are often more reliable, but can make boots unbreathable and hot. The added benefit though is that these membranes are a solid barrier that can keep the interior dry, even if your boots been submerged in a puddle. 
Water resistant boots on the other hand can repel moisture up to a certain point. But eventually, water may find its way into the interior when exposed to high levels of water. Typically the outer materials are water resistant. Similar to what you'd expect from a raincoat, small amounts of water will bead up and run off on a rainy day, but if you jump into a pool, there's no way you're staying dry. 
Waterproof boots would be most appropriate for folks working outdoors or in wet environments on a daily basis like linesmen, maintenance men, mechanics, or plumbers. Whereas water resistance is more of an added bonus for the average work boot wearer. It'll help keep you dry in a passing shower or occasional spill, but probably won't be enough coverage if you're likely to encounter more water than that. 
Water often finds its way into the interior by passing though anywhere there's stitching. When boots are constructed, the sewing inevitably creates small holes in the leather which, if not properly sealed, can let moisture in. Plus, the threads that pass through these holes can actually further draw in moisture. 
How do I waterproof any type of work boot?
Whether your boots are fully waterproof or just water resistant, there are products you can use to strengthen the protection your boots currently have. You can try sealing off any weak spots with waterproofing products. Areas like the welting are often the culprits if you notice that moisture is able to find its way in. So using waterproofing waxes or sprays might be able to help improve the seal on your boots. Read more about waterproofing your boots here. 
To make sure your boots are fully waterproof, look for how the soles were attached. If sewing was used in the attachment process, like in Goodyear welt construction, you'll probably want to make sure the stitching is waterproof as well. If they're made with direct attachment, ensure that also includes a waterproof seal. If they use the waterproof liner method, you're probably good to go. 
You can still add waterproofing products to the exterior if you'd like. But that's mainly useful if you're more concerned about keeping the exterior dry as well to protect the leather and minimize drying time between wears. 
In the market for a waterproof work boot? Check out the Ever Boots Ultra Dry. It's made with a waterproof seal-direct attachment method, and the upper, lining, outsole, laces, and stitching are all completely waterproof. 
--
At Ever Boots, we pride ourselves on making high quality, durable boots for a very reasonable price. We believe that we can still use the best materials, NOT cut corners, and still offer the best for our customers. And for the past five years, we have. Learn more about the styles and features of EVER BOOTS products here. 
Leave a comment
Comments will be approved before showing up.