Where To Wear Your Ever Boots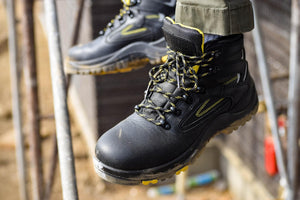 Go anywhere with EVER BOOTS. They're designed with durability and quality in mind, making them the essential versatile work boot. Regardless of the model, EVER BOOTS offer first class protection without compromising comfort or affordability.
At the construction site.
EVER BOOTS are built with the construction worker in mind. We know exactly what your boots go through, so we made them with the toughest construction. Sporting a classic look, the TANK is a reliable and affordable boot that will get you through the work week.
At work.
We know your job can involve all types of hazards and safety protocol. EVER BOOTS has your back. The PROTECTOR does exactly what it says it does. Designed for safety, the steel shank, oil resistant outsole, EH Protection, and steel toe has got you covered no matter what your work environment.
Around the house.
The grind doesn't just stop when you come home. EVER BOOTS work just as hard around the house as they do at the construction site. Break out the yard gloves and get those weekend chores out of the way. Whether you're finally power washing the deck or clearing out overgrown weeds, EVER BOOTS will keep your feet dry, supported, and comfortable.
Out hiking.
Get out there with EVER BOOTS. The great outdoors is no place for just any shoe. You need a reliable boot to keep you dry, supported, and protected no matter the terrain. The ULTRA DRY will do just that, and their durable build will keep your outdoor adventures going for miles.
On the street.
Who says you have to sacrifice fashion for quality and durability? EVER BOOTS are not only made to withstand the challenges of the workday, but can also transition seamlessly into everyday streetwear. The dark leather TANK pairs perfectly with a pair of jeans offering comfort and support on your day off.


Learn more about the styles and features of EVER BOOTS products here.
Leave a comment
Comments will be approved before showing up.