What to Look for in a Pair of Budget Work Boots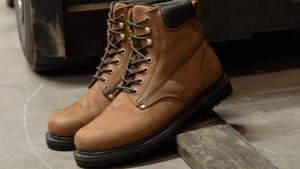 Anyone can spend a fortune on a pair of high quality work boots with all the bells and whistles. But spending upwards of $400 for a single pair of boots just isn't realistic sometimes. 
Lucky enough, affordable, heavy duty work boots do exist, you just have to know what you're looking for to find the right pair. You can definitely find legit work boots for a good price online, but you can also end up with something cheap and poorly made.
So here are the top 4 things to consider when looking for the best value in a pair of affordable work boots: 
The Materials
When you think you've found a good deal, the first thing you should check on is the boot material. What are these work boots made of? Often times manufacturers will skimp on materials to lower the price, and well, you get what you pay for. 
You should be on the lookout for full grain leather. It's tough and long lasting while still offering flexibility and breathability. Alternatives like nylon might be lighter or more flexible but definitely do not last as long, especially under tough conditions. 
When it comes to the sole, you'll want them to be made of rubber or TPU (Thermo Polyurethane). They're oil, abrasion, and slip resistant. 
The Construction 
Reliable construction is often the reason for the hefty price tag on most footwear. And in a world of fast fashion and shoes that can last no more than 10 wears, it's even more important to know exactly how your boots are being made. 
When it comes to work boots, Goodyear Welt Construction is your best friend. It's durable construction that you can trust and definitely worth the price. 
Other methods, like cement construction, offer flexibility and a lightweight build. But when you need a tough boot day in and day out, you might want to stray away as cement construction is more prone to delamination over time (ie the sole separates from the upper). 
Another thing to note is that cement constructed boots CANNOT be resoled. So when they're done, they're done. Goodyear Welt constructed boots offer you the option to re-sole when the time comes, allowing you to extend their lifetime and save on buying yet another pair of boots. 
The Protection
When nearly 25% of disabling workplace injuries are foot injuries safety is a #1 priority. Don't fall into the trap of bargain prices with no functionality. Double check that the boots you're buying are ASTM/ANSI certified for your work. Some boots out there may look the part, but are not really intended to be used for work. If the boots really are certified, the manufacturers will list it. 
The Brand
And last but not least, do your homework on the brand. Name brands aren't everything, but with plenty of data like customer reviews and consumer reports readily available online, you should determine if the brands you're shopping for are reliable. 
If the price seems too good to be true, it probably is. So do some research before you buy so you know whether or not you're getting a good deal. This is especially important when you're shopping from third party sellers on Amazon. 
If you're looking for a rugged pair of work boots that won't break the bank, the Ever Boots Tank is a perfect fit. Made of durable leather and built to be reliable, it checks off all the boxes for less than $80. You can even get it with a steel toe. 
Affordable work boots are out there. You just have to know what you're looking for. Don't sacrifice functionality for price, especially when your safety is on the line!
Learn more about the styles and features of EVER BOOTS products
here
.
Leave a comment
Comments will be approved before showing up.