What Makes Us Different From Other Waterproof Boots Brands?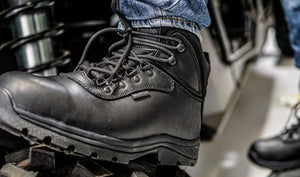 We are all familiar with the fact that many brands are selling waterproof construction boots. None would come to the quality that we provide, and we are confident that we will satisfy you in more ways than one. Just when you were thinking about something, we were already making it. There is a good reason why we have gotten nothing but positive reviews from the people we served in the past.
Outstanding Durability
The lightweight waterproof boots you buy from us will last for a long time. As a result, it will be a few more years before you even think about buying a new one. They were designed to withstand several outside factors as we could believe in advance about what could happen to these things. Yes, we know there will be several terrains that you will use them on. We tried and tested each boot to make sure they meet your standards. They will meet your expectations and exceed them by a mile, so make sure they fit you just right.
This is the first thing that we would brag about, and we have good reason to since we use the best materials available. Add that to the fact that we prioritize giving ultimate customer satisfaction, so we take all types of feedback into the heart. We would want nothing more than to satisfy all of you using the best of our capabilities. Of course, nobody is perfect, so we will admit that we make mistakes at some points in our lives.
Long Warranty
The deal sealer here for our lightweight waterproof work boots is the warranty that we provide. Due to how confident we are for our products, we give a pretty long warranty. The length would depend on the product you bought. One thing is for sure, you are going to be satisfied in that area in more ways than one.
The reason why we give an extended warranty is that we are pretty confident of the capabilities of our technicians. They would want nothing more than to serve you in the best way possible. Be sure to keep the warranty card to entertain you when you thought something went wrong with the product you bought from us. Of course, we are confident that there is a small chance of that happening.
Sought After Customer Service
We always respond quickly to all of our customer inquiries either through Facebook Messenger or text message. Even if you send us an email after office hours, we guarantee we will get back to them the next day. We will never keep a single customer waiting no matter what the situation is. We see to it that we train each member of our customer service team thoroughly to perform up to the tasks that we give them.
You will be surprised at how much our customer service team knows all of our products by heart. Yes, they underwent product training, and they are passionate about what they do. Hence, you won't be kept waiting with all the things that you need to do before you can finally purchase one of our highly acclaimed waterproof lightweight work boots.
The next thing to do would be to go to the official website of Ever Boots and feast your eyes on our wide range of designs. It is no secret we spent a lot of time on each one as we are looking forward to serving you in the best way possible. We will even help you with all the choices that you need to make. We are all faced with tough decisions at some point in our lives.
We would love for you to wear our lightweight waterproof work boots and show them off to your friends whenever you get the chance to. For sure, you will get a ton of compliments from them. Thus, that will affect your self-confidence in a big way, and that is something you would want to do when the time is right, and you think you are ready.
Leave a comment
Comments will be approved before showing up.