What Are the Benefits of Using Steel Toe Work Boots?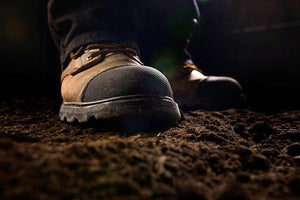 Steel toe boots are an excellent choice for anyone working in exposed or potentially dangerous work environments. Steel toe boots are specially designed footwear that are reinforced with a piece of steel or strong metal that has been inserted around the toe of the shoe. 
They also have other additional features that can further enhance your safety, such as waterproofing or extra grip soles.
Curious about the other benefits of Ever Boots steel toe boots? Keep reading.
Safety in the Workplace
The number one benefit of steel toe boots is that they massively increase your safety in the workplace. If you work in or around a construction site, then steel toe boots will ensure that your feet are kept safe from a variety of potential risks and dangers.
The metal around the toe of the shoe ensures that the foot is adequately protected from punctures, impacts, or penetration from falling objects or uneven work spaces. They can also keep you safe from objects jutting out that could be rusty or sharp.
Comfort and Security
You might not think so, but steel toe boots are actually very comfortable and not purely utilitarian. Ever Boots has a range of steel toe work boots that are designed with your comfort in mind so that you can be on your feet all day long without getting blisters, sore spots, or aches.
They also have lots of built-in support to ensure that any weak point in the foot, such as the ankle or arches, is kept protected and fully supported. This can help prevent workplace incidents like sprained ankles.
Other work boots might have a similar level of comfort, but they will not have the very necessary combination of comfort, security, and safety from all types of accidents and risks.
Weatherproofing
If you work outside, then you should look for a pair of solid waterproof steel toe boots. These will enhance the comfort and safety while you work because along with ensuring that water cannot penetrate inside the boot, there are additional features as well. These include extra gripping on the bottom of the shoe to ensure safety while navigating slippery surfaces, climbing damp stairs, ladders, or scaffolding.
Just bear in mind that there are different levels and types of waterproofing. If you work in hot or humid climates, then you should opt for a shoe that is waterproof but not insulated so that your feet don't overheat or become uncomfortable.
Durability
Lastly, another huge benefit to quality steel toe boots is their durability. Steel toe boots are made to withstand impact and punctures from sharp or falling objects. That means that they are constructed to last for years and through rough weather and working conditions.
Normal shoes simply do not offer this level of durability. In fact, this is why most construction or building sites require their workers to wear reinforced boots or steel toe shoes. 
Buy Steel Toe Boots You Can Trust
Ever Boots steel toe shoes are made to last with high-quality materials and the best craftsmanship. By investing in a pair now, you can rest assured that your feet will be protected while you work for years to come.
Leave a comment
Comments will be approved before showing up.