Tips to Make Your Steel-Toe Boots More Comfortable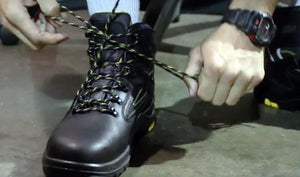 When your job is tough and your days are long, your footwear is a part of your equipment. Like any piece of equipment, shoes need to be the right size for the worker, to have the best accompanying accessories, and to be properly maintained in order to be used efficiently and painlessly.
Hit the Ground Running with the Right Fit
Make sure your work shoes really match the size and shape of your foot when you buy them. The metal inside of steel toe waterproof work boots for men takes up extra space and affects the fit. Your feet will also swell from the heat of a long day's work, so keep all of that in mind.
Matthew Hudson, CXO of Work Wear Safety Shoes, recommends considering both the length and width of your foot when looking for a new pair. Click here to see his video "How To Fit a Safety Shoe".
Add Padding with a Good Pair of Socks
There are special steel toe socks which have cushions around the toes and heels, to add a buffer between your feet and the rough material that will be protecting them. These socks are thick and will take up even more space in the shoe, so it is best to have a pair on when figuring out which boot is best for you.
Make sure the socks are "moisture-wicking" (they draw sweat away from the foot) and that they breathe well. This will keep your feet dry and prevent bacterial growth.
Take Pressure off Your Arches by Using Better Insoles
According to Nicksboots, making sure you have support for the arch of your foot will help to prevent straining it. Get a pair of inserts designed for comfort and added arch support to replace the ones your boots come with. In preparation of this, you should check if the original insoles of the boots can be easily removed.
Make Your Boots Move With You by Breaking Them In
Before their first day on the job, you will need to put in some time conditioning your shoes to bend and stretch with you as you walk. Wear them around the house for an hour or two each day, for at least a few weeks. Bend and stretch them with your hands here and there as well, to loosen them up.
Maintain Effectiveness and Flexibility
Taking proper care of your shoes will keep the leather pliable, and prevent it from cracking and pinching your feet. Clean your boots at least once a month and use a leather conditioner whenever they start to look dry or lose flexibility. 
Sootheyourfeet also recommends to always make sure your shoes are staying waterproof, stating that this is especially important if you work outside or in places with a lot of moisture.
Your work boots need to be used correctly to prevent injury. Get the proper fit, wear them with the best complimentary gear, and take good care of them. Your feet will thank you for it.
Leave a comment
Comments will be approved before showing up.