The Work Boot Gift Guide for Dads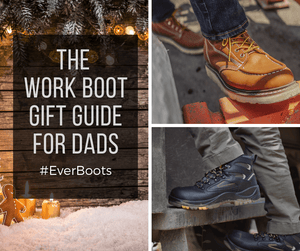 Holiday shopping can get complicated. So we made it easy for you -- at least for one person on your list. Take a look at the Ever Boot gift guide for dads, or just anyone that fits the descriptions below. Ever Boots are the best boots around - offering comfort, durability, and going easy on your wallet.
This guy. This guy right here. You know this dad. He tells the same jokes, listens to the same genre of music, and wears the same clothes he's been wearing for - well we're not really sure. But hey, if it ain't broke, don't fix it. The Tank is his perfect boot. A classic style for a classic guy, the Tank is a reliable shoe he can wear at work or at play. It's been in style, and it'll stay in style. This holiday season, get him something you know he'll like.
This is the dad that's always working, even when he's off the clock. When he's clocked in, the Protector's steel toe delivers all around safety, no matter the job. But even when he's at home, you can find him working away. Whether it be doing chores around the house or working on his own projects in the garage, his boots never get a rest. So get him a pair that will have him covered from A to Z. The Protector is perfect for him and all of his odd jobs.


Your dad loves the outdoors. Can't get enough of the fresh air. He's one with nature… okay, maybe not quite, but he does spend a fair share of time outside. Hiking, camping, hunting, what have you, his boots have seen a lot. Get him a pair of boots that's going to withstand all the dirt, water, and mud that mother nature throws his way. The Ultra Dry is sure to last his outdoor trekking no matter the terrain.


Alright, maybe he doesn't need another pair of shoes, but he definitely wants one. Get him a pair that he can actually use day to day. The Weldor, our newest creation, is a moc toe work boot that transitions seamlessly into anyone's streetwear collection. You could get away with using these work boots as an everyday shoe, but it's nice to know they definitely meet the work boot standard for durability and comfort.
Learn more about the styles and features of EVER BOOTS products here.
Leave a comment
Comments will be approved before showing up.