The History of the Moc Toe Boot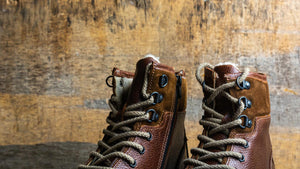 The 877 8-inch classic moc toe boot was first created in the early 1950s by a Red Wing, Minnesota-based boot manufacturing company. Originally, the style was created for farmers and hunters. These people spent the majority of their days outside, in often difficult, rainy, and chilly conditions.
The shoe brand is named after the small Minnesota village where its rugged boots and shoes are made. The company, which was founded in 1905 by Charles Beckman and is still privately owned and run today, developed swiftly, providing doughboys with boots intended for the muddy trenches of WWI.
Following WWII, the company became well-known across the country for its tough and durable boots designed for factory workers, farmers, and outdoor enthusiasts. The boots and shoes are still handcrafted in Red Wing's Minnesota plant and are sturdy, traditional, and well-loved by generations.
The recently released boots were unlike any other boots on the market. They had special rubber soles, now known as Traction Tred soles, that kept the majority of the dirt off the boots.
The high shafts not only made the boots weatherproof but also made them more resistant to snake bites. They also had the immaculate Goodyear Welt that the company is famed for.
Following the success of the 8-inch classic moc toe, the 875 6-inch classic moc toe was introduced.
What are Moc Toe Boots?
Moc toe boots have an open leather top over the top of the foot that allows the wearer to wiggle his toes within. They resemble Oxfords in appearance, with an eyelet on each side through which laces run, but they lack a tongue at the top. Socks and low-cut shoes are frequently paired with moc-toe boots.
The seam can be made by sewing two pieces of cloth together around the toe box or by sewing a seam within a single piece of the same form.
Why are Moc Toe Boots Popular?
The moc toe style is most commonly linked with robust work boots, making them a popular choice not just for people who work hard tasks, but also for those who wish to add a little toughness to their style.
These boots are a perfect accent to a casual fall appearance when paired with a pair of jeans and a few layered shirts. One of the reasons for its popularity is that a decent pair of moc toe boots may be worn on the job and out on the town.
The main appeal of moc-toe boots for most guys, however, is their comfort, durability, and practicality—these boots are must-haves on many job sites for a reason. The top seam adds flexibility to these boots in addition to looking good. The taller walls in the toe box of a moc toe also provide a bit extra room for your toes, which many people like—especially after standing on their feet all day.
Invest in Premium Quality Moc Toe Boots
Ever Boots is committed to providing outstanding moc toe boots at a reasonable price that are fit for a variety of lifestyles of our consumers.
We believe there should be no sacrifices when it comes to getting high-quality moc toe boots.
Because we believe that our customers deserve the best protection and comfort, we create our moc toe boots with them in mind.
If you're looking for a new pair of moc toe boots, email us at support@everboots.com or contact us at 951-268-6549 at Ever Boots today!
Leave a comment
Comments will be approved before showing up.