The Best Yard Boots for Every Job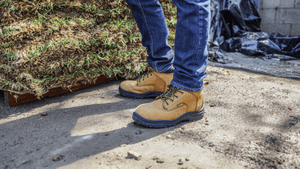 What to Wear for Weekend Yard Work
We're now well into springtime and that means the weekend yard work grind has begun. Whether or not you enjoy doing it, the work has to be done. You can make the job safer and more comfortable by wearing the right pair of shoes.
Your footwear needs are going to change a lot based on what your backyard is like and the types of jobs you're taking on. So let's break it down into a few categories to pinpoint exactly what you should be looking for in a pair of yard boots.
Gardening and Wet Jobs
From pool maintenance to gardening, start with a waterproof boot that will keep your feet dry and mud-free. You'll also want to make sure you're working with non-slip soles for obvious reasons.
Rubber rain boots are a popular option for gardening, but another underrated option is a waterproof work boot, like our Ultra Dry. They offer the waterproofing and slip resistant soles you need while still being lightweight and flexible for whatever you're working on. An added bonus is that they're easy to clean.
The Ultra Dry provides traction and stability across all types of terrain making them ideal for more than just wet jobs and translate well to tasks like landscaping, yard work, and even hiking (if that's your thing).  
Heavy Lifting
Some jobs require more heavy duty materials and tools, but if you can do it yourself, why not? Just make sure you're taking all the right precautions for your own safety!
If you find yourself lifting heavy materials like pavers and lumber, or working with machinery to cut tree branches and level the ground, you should be wearing a dedicated work boot with a steel toe.
A quality work boot, like our Tank, checks all the boxes for safety. You get the steel toe plus traction on all kinds of terrain. The full grain leather is breathable and flexible. But they might be a little too heavy duty for some DIY backyard jobs. In that case, you might want to go with the Warepro. Their sneaker design is lightweight and flexible and a lot more comfortable under the summer sun.
All in all, just remember to keep your safety in mind when doing yard work. An old pair of sneakers might cut it for mowing the lawn, but  for other jobs you could definitely be getting it done much more comfortably with the right footwear. But whatever you do, don't just wear flip flops. Please.
Learn more about the styles and features of EVER BOOTS products here
Leave a comment
Comments will be approved before showing up.