The Best Work Boots to Use at Home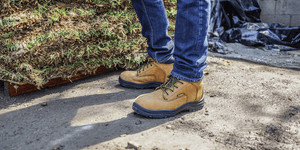 Maybe it's the spring weather or perhaps the stay at home orders imposed by many state governments around the country, but a lot of people are taking to their yards and garages to finally do some DIY projects at home. Even if you aren't tackling a big project, it's a good idea to have a dedicated pair of work shoes to wear around the house. 
Most people don't think to spend extra money on a pair of boots to do projects around the house. They might opt for a beat up pair of sneakers to get the job done, but that could actually end up costing big time if you end up getting injured. Old sneakers often have worn out soles with little traction, inadequate support, or no protection at all left in them. 
That's why we believe that a dedicated pair of work boots is a must have for safety and support while sprucing up your home. If you're worried about the price for something you're mainly going to use at home, then don't be ! No one says you have to break the bank to find affordable work boots. Below are our top picks for different kinds of jobs around the house. 


A classic leather work boot, like the EVER Boots Tank or Weldor, is our first pick for everyday projects around the house. Leather boots are a great investment because they're breathable, flexible, and durable. That makes them super versatile. You'll be able to perform lots of different tasks without overheating. A non-slip sole is crucial especially when you need to climb up a ladder to clean out the gutter or hang up lights. Plus, they provide ample support which is ideal for a full Saturday of work.




If you have a pool or are into gardening, you might benefit from a waterproof, non-slip boot. We recommend the EVER Boots Ultra Dry. The waterproof outer will keep your feet dry before coming back into the house. It also makes it really easy to clean off any dirt and debris that easily build up during pool maintenance or while gardening.
And for those of you who have the skills and tools to take on bigger jobs, it's important to keep safety in mind even though you're not technically at work. If you're tackling substantial landscaping jobs or small scale renovations, you might need a steel toe work boot to avoid any mishaps with dropping heavy materials or puncturing your boot with a stray nail. The EVER Boots Tank S could be the right boot for you. 

When it comes to safety, it's important to look at what the footwear was originally made for. A pair of work boots will give you all the safety features you need and the versatility to do the work around your house with confidence.
Learn more about the styles and features of EVER BOOTS products here. 
Leave a comment
Comments will be approved before showing up.