The Best Socks for Work Boots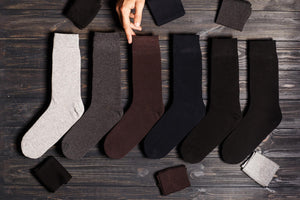 A Perfect Pairing
You might think giving socks as gifts is a simple no-brainer, but the right socks for someone who's on their feet for hours on end can immediately prove its worth.
Any old pair of socks just won't cut it for a long day of work. They don't provide the right support and wear out extremely easily, especially under working conditions. The wrong pair of socks can make you uncomfortable and even damage your boots.
So when it comes to finding the perfect pair of socks to go with your work boots, you need to get it right the first time around. Generally speaking you'll want them to be durable, breathable, and moisture-wicking at the very least.
For everyday jobs, you can check off all those boxes with a good pair of merino wool socks. Merino wool is an exceptionally soft material that keeps your feet comfortable. It's a good insulator, keeping your feet cool during the summer and warm during the winter. It's moisture wicking so it can absorb water without feeling wet and also dries quickly. Its natural anti-microbial properties fight off bacteria to reduce odors. Merino wool is your safest bet at a good pair of socks.
A match made in heaven: the Tank + merino wool socks. The Tanks' full grain leather offers comfort and breathability, making them a perfect match for the merino wool's moisture-wicking properties. Together, they offer optimal dryness and comfort.
You may want to opt for synthetic fibers, like olefin material, if you're working around water or tend to have sweaty feet. A good pair of waterproof boots, like the Ultra Dry, offer added insulation. But that extra protection reduces breathability, making it easy for swear and moisture to build up inside your boot. The hydrophobic fibers in olefin socks actively draw moisture out making them dry faster than merino wool. Synthetic materials may be less comfortable compared to merino wool, but if moisture is a concern of yours, they're worth a shot.
Just as a note, do NOT wear cotton socks with your work boots. They're popular for everyday use because they're inexpensive, but otherwise they're a mistake for work boots. Cotton wears out easily, absorbs moisture, traps heat, and dries extremely slowly. Do yourself a favor, and steer clear of cotton.
Depending on wear, you'll have to replace your socks every few months. Wearing worn out socks runs the risk of getting blisters, retaining sweat & moisture, and just being uncomfortable. On top of that, your boots would take a beating too in terms of moisture, bacteria, and odors.
Bottom line: You went through the trouble of picking out the perfect work boots, don't shoot yourself in the foot by wearing the wrong type of socks. Take the time to choose a pair that compliment your boots and fit your needs.
Learn more about the styles and features of EVER BOOTS products here.
Leave a comment
Comments will be approved before showing up.