Our Leather: What We're Made of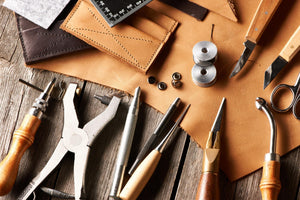 We know how hard our customers work, and that's why our boots are made of the very best materials. EVERBOOTS are constructed with premium 2.0mm full grain leather, offering toughness, comfort, and character all-in-one.
Full grain leather comes from the strongest and most durable part of the hide, making it the perfect material for EVERBOOTS.  Because it hasn't been sanded or buffed, the natural characteristics of the leather show through. More importantly, it resists moisture even after prolonged contact because the grain is so tight.
EVERBOOTS were built to last and full grain leather only gets better over time, aging nicely and developing a character that isn't easily replicated. The leather becomes softer and more breathable, making the boots more comfortable the more you wear them.
We use the best materials and construction to ensure your boots keep up with you, no matter the job. That's why full grain leather is a must when it comes to constructing EVERBOOTS. They guarantee the durability, look, and comfort our customers are looking for.
Leave a comment
Comments will be approved before showing up.