Influencer Spotlight: Matt Panella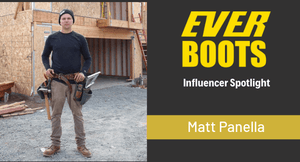 Meet Matt Panella aka @MattBangsWood.
He first got into the trades at the age of 15 working with his father. Now he's 22 and a bona fide 3rd generation carpenter leaving his mark on the world of social media. With over 23k combined followers over Youtube and Instagram he's made a name for himself through his brand MattBangsWood, where he combines his dedication to carpentry with his passion for photo and video.
He uses his platform to help out his audience, whether it be through tricks and tips for the work site or informative product reviews and recommendations - Matt's got your back. We caught up with him recently to chat about his work. We talked about his career as a carpenter as well as an influencer, and his best practices for making the most of both.
Tell us a little about yourself and how you became interested in carpentry.
I'm 22 years old, from Central California. I come from three generations of amazing carpenters, who have taught me everything I know. When I was 15, I had no interest in carpentry, or any job for that matter. My girlfriend (now wife) and I got pregnant, and I had to do something to make a living for my new family. My Father brought me out on-site to scrap out, fetch nails, and be the jobsite gopher (go for this, go for that). After a few years, I caught onto things from watching the journeymen work, and asked questions about everything! Over time, I started to really like what I was doing. When I was 19, I started taking the work more serious, and wanted to learn everything I could about it. Without my Father and Grandfather as mentors, I don't know where I'd be, but I'm thankful they led my in the right direction.
Can you describe the purpose of your Instagram page and the content you like to share.
I'm big on photo and video, it's always been a passion of mine! Bringing that onto the jobsite has been a lot of fun for me. If I feel people can relate to it, I'll share it. I film tips and tricks for youngsters getting started, things I learned in the first few years or things I wish I'd known in the first few years.. Often post about the latest tools, talking about things I like and dislike. Along with time-lapse videos on my ATL-200 from @TimeLapseCameras. No matter what job we're doing, I've got 5 or 6 cameras with me at all times! My overall goal for my Instagram is to help those around me, whether it be learning little things here and there, or helping you make the right decision when tool shopping.
What has been some surprising or notable things you've learned from your career in the trades?
I've learned a few things that really helped me and stuck in my mind over the years.
Respect the tools you're using. Injuries happen quick! I've seen a few Saw injuries now, one nearly fatal. It happens quick and it might not have been expected, but always use the tools the way they're meant to be used and understand what they're capable of doing to you.

It can be a mind game at times, but don't ever give up. I have days where I want to quit, never frame again. Tomorrow is always a new day, and things always get better. Set goals and crush them! Just don't ever give up.
Can you tell us about the impact workwear has on your job and how you go about choosing your gear?
I'm insanely picky when it comes to workwear.. I need comfort, flexibility, etc. When you feel good, you work good. If you're wearing uncomfortable clothing, that doesn't allow you to move, you're not going to work efficiently. I wear Levi Stretch Jeans or Joggers primarily, they're flexible and I can move freely. Boots and shoes are big too, I wear classic Van's skate shoes for roof framing, and Moc Toe boots for wall framing.
How is Ever Boots a part of your work day?
Ever Boots has been a big part of my work flow. Right along with the pants I wear, my boots need to be comfortable. If it's raining out, the Ultra Dry keep my feet warm throughout the day, while everyone else complains they're soaked. Wall framing, I rock the lightweight Weldor boots with the flat bottoms, they're super flexible and comfortable! It's nice to know that no matter what we're doing, I've got a pair of boots that is suited for that task. One day, we're framing in the dry, sunny weather here in California.. The next, we're doing exterior siding in 6" of mud!
Is there a message you'd like to share to our audience who may be interested in carpentry or a career in the trades?
Stop at absolutely nothing to reach your goals! Don't ever let anyone get in the way of what you're wanting to do in life. The trades are a great way to make a living, especially without a college degree. For any questions about getting into the trades, or more specific questions, feel free to reach me on Instagram @MattBangsWood.
Matt Panella
(805)270-6993
Instagram | YouTube
mattbangswoodmanagement@gmail.com
Leave a comment
Comments will be approved before showing up.