How to Choose the Right Moc Toe Boot?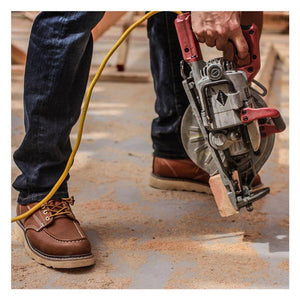 Moc toe boots are a certain style of lightweight boot that has a raised seam across the top of the shoe. This is a very popular style for casual footwear as well as remaining a standard in workwear for construction and building sites.
The seam at the top makes for a very flexible shoe, which is ideal for construction boots that require room for agility and constant movement.
Because moc toe boots are so versatile and can be used for a variety of needs, it is very important that you choose the right pair to invest in. These boots are also built to last so when you choose the right pair, you will be able to rely on them for years to come.
Keep reading to find out some of the key features you should look for to suit your needs and lifestyle.
Work or Leisure
The most important thing to consider is how and when you will be using your moc toe boots. If you are looking to wear your moc toe boots casually, then a more lightweight option is best. They will still be very comfortable and flexible, but easier to walk in and more comfortable when just hanging out or traveling.
Even more, casual moc toe boots are often made with agility and functionality in mind. For instance, many casual styles come with non-slip exterior soles that are shock absorbent for maximum comfort and agility.
If your moc toe boots are for work, on the other hand, then there are a lot more factors to consider. You will want to take into consideration things like weather, worksite conditions, and comfort fit.
Things to Consider
Weather
If you live somewhere with a lot of rain, then waterproofing will likely be a big priority. There are options for complete waterproofing, like the Ever Boots 'Submarine' Work Boots, or other options that offer water repellent materials but remain more breathable.
Worksite
The conditions at your worksite might also be important to factor into your decision of what moc toe boots to purchase.
Moc toe work boots can be designed with exterior soles having extra-strong grips that are made to stay stable even around oily or slippery surfaces.
These types of soles are also better for construction sites where you might be required to climb scaffolding, ladders, or stairs regularly. The built-in flexibility makes this a safer option.
Comfort
There are also some very high-quality moc toe shoes made with insoles designed for superior comfort, flexibility, and support. Alongside comfort are the convenience of speedy hooks and back loops that make pulling the boots on and off a much more efficient operation.
When it comes to choosing a moc toe boot, it is most important to know exactly how you will be using them.
Having a good understanding of how many hours you're on your feet and in what conditions will allow you to choose the best type of support and material for optimal comfort, support, and durability.
To help you decide which pair of moc toe boots would meet your needs, contact us at Ever Boots today.
Leave a comment
Comments will be approved before showing up.