How to Choose Laces for Work Boots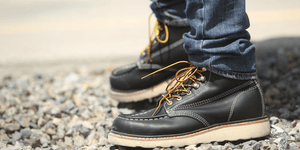 The laces are often an overlooked feature when it comes to shopping around for the best work boots. But they really can make a difference depending on how you use your boots and, of course, personal preference. 
More often than not, the laces are the first thing to show signs of wear on a pair of well worn boots, at which point replacing them is a must. But what do you even look for in a pair of shoelaces for work boots? Let's break it down. 
MATERIAL 
Organic Materials: Like leather, cotton, jute, or hemp are common options for leather work boots. They typically have a rougher texture that have ample grip, making them less likely to untie. These laces, especially leather ones, are also popular because they look great. The downside is that they don't hold up quite as long since they're more easily worn out by moisture, heat, and stress. 
Synthetic Materials: There are many types of synthetic laces, but generally speaking they're smoother and more durable than organic options. Their texture makes them more prone to sliding or untying. However, their longer lifespan definitely makes them an attractive option. Polyester and kevlar are good synthetic options. 
LENGTH
Overall, boots have more eyelets than regular shoes, necessitating longer laces. But the exact length really depends on the boot. It's best to measure your current laces, and choose new ones based on that measurement. 
Not only is it uncomfortable to use ill fitting laces, it also poses a safety risk. Short laces might force you to forgo tying the upper eyelets, reducing ankle support. And long laces either have to be tucked into the boot or left to drag on the ground with each step. 
You can also make a pretty good guess based on the number of eyelets on your boots. 
| | |
| --- | --- |
| # of Eyelets | Length in Inches |
| 5-6 | 45 |
| 6-7 | 54 |
| 7-8 | 63 |
| 8-9 | 72 |
One benefit of leather laces is that they are very easily trimmed without the need to finish off the ends. That way you can customize the length of your laces to fit your boots and preferred tightness exactly how you want them. 
STYLE
Laces come in different styles, most commonly flat, round, or no-tie. You'll definitely want to go for a flat shoelace. They stay tied for a longer period of time making them the safer option. Plus they feel more comfortable against the top of your foot since they lay… well flat. 
But if the tongue of your work boots is thick enough, the style might not make much of a difference. Just make sure that, whatever style you choose, they're able to fit through the eyelets and you like the way they look. 
SPECIAL FEATURES
The laces that originally came with your boots are meant to satisfy a broad spectrum of consumers. One main reason you might want to replace them is to take advantage of the many different features available in the shoelace market. That way, your boots are even more customized to your specific needs. 
Depending on your workplace needs, you can find shoelaces that are resistant to extreme stress, heat, fire, chemicals, water, UV exposure, and any combination of these features. 
All of these factors come together to make your boots that much more comfortable and safe. A perfectly fitting pair of laces gives you a custom fit that reduces pressure on your metatarsal area, allowing you to be on your feet for longer periods of time while experiencing less stress on your feet. 
You could have the best work boots in the game, but the right pair of laces could make them that much better. 
Learn more about the styles and features of EVER BOOTS products here. 
Leave a comment
Comments will be approved before showing up.