How to Buy Work Boots Online and Get the Right Size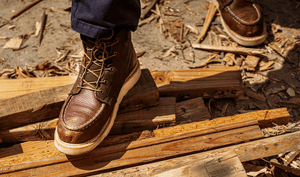 Black Friday shopping is looking a little bit different this year, but one thing's for sure. The traditional all night shopping fiasco is a NO GO. 
Even if stores are open for Black Friday, the last thing you want to do is show up to a crowded, indoor situation where the last thing on anyone's mind is social distancing. That's where online shopping comes in! You can still take advantage of sales while taking care of your health and lessening the burden of the employees that actually have to work the Black Friday shift. 
When it comes to online shopping (especially for boots), two questions always arise: 
How will I be able to tell the quality of the products? 

How will I get the perfect size? 
No one wants to go through the trouble of having to return a pair of ill fitting or unsatisfactory shoes. So here are our tips to make sure you don't waste your time or money while online shopping this Black Friday. 
How will I be able to tell the quality of the products? 
Reviews

: First check out the reviews. This is a good place to start to get a feel of how other consumers view the quality of the boots. Try and look for substantial reviews that include specifics or dated reviews that indicate they've been written after a few months of wear.





Sites like Amazon also allow you to search through reviews for specific keywords which can be helpful if you have any particular concerns or are interested in any specific product features.




Forums:

Since product reviews can sometimes be unreliable, you may be able to find some reassurance elsewhere online. Forums are a great place to find discourse on almost any topic, and work boots are no exception. You can find results from Google, Reddit, Quora, or other forums with folks who were wondering the same exact thing.



While forums are also not a perfect source for getting opinions, these sites are usually not directly associated with the product's sales or marketing. So there's less incentive to filter or fabricate opinions here. 


Brand:

You'll also want to do a quick check on the brand if you're not already familiar with it. You might think you're getting a good deal on Amazon, but you'll want to double check that the brand is actually legit before pulling the trigger. Take a look at their website and social media to find out: Are they legit? How long have they been in business? Do they have loyal customers/followers that actually interact with them?
Answering questions like that can give you a better idea of whether or not this is a company you're willing to do business with. 
How will I get the perfect size? 
Measurements: The easiest way to confirm product sizing is to double check if the manufacturer lists product measurements or size charts on their website. If so, you can take your own measurements at home and make a decision from there. 


Manufacturer Suggestions:

Some brands will even include sizing suggestions in the product descriptions based on other brands you might already be familiar with. 
For example, the Ever Boots Tank: We mention that they run a 1/2 size bigger than Timberland Boots for men, a ½ size bigger than Wolverine work boots D(M), and a ½ size bigger than Caterpillars.
Descriptions like these can help give you a reference point to confirm the sizing. They're nice because it's actually based on something you're familiar with, physically, in real life. 
Forums/Reviews

: Lastly, you can revisit forums or even search product reviews for sizing information. If you can find enough folks that offer the same opinion, that's probably enough evidence to confirm if a pair of shoes is "true to size."
Stay safe this Black Friday by shopping online and follow these tips to make sure you get what you're paying for. Happy shopping and Happy Holidays! 
--
At Ever Boots, we pride ourselves on our making high quality, durable boots for a very reasonable price. We believe that we can still use the best materials, NOT cutting corners, and still offer the best for our customers. And for the past five years, we have. Learn more about the styles and features of EVER BOOTS products here. 
Leave a comment
Comments will be approved before showing up.