How to Buy Boots Online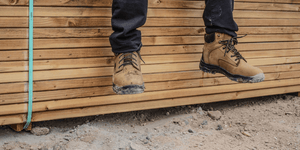 There has definitely been a surge in online shopping and ecommerce since the onset of the ongoing pandemic. For some, online shopping for everyday household items is actually a lot easier than physically going to your local big box store. 
And while it may be convenient to have your favorite detergent shipped directly to your door, some folks might not be ready to do the same for other items like clothes and shoes. Without the ability to assess the quality or fit of an item in person, it might not even be worth the time and money to place the order, let alone set up a return if it ends up not working out. 
But not to worry! Here are our top tips for online shopping and finding the best work boots.
Who's the seller? 
A Google search for affordable work boots will probably yield a very wide range of boots being sold on many different platforms. It can be overwhelming, so one way to narrow down your options is to decide where you want to buy them from. 
Buying directly from the brand is a good option because you know for sure that you're getting authentic items and it is usually easier to take advantage of warranties and repairs since they'll also get a record of your purchase. You'll also be able to find the most reliable sizing and product information from these sites. 
Similarly, you can reliably shop from online retailers -- ie the online version of the store you would have gone to in person. It could also make your life a little easier if you end up having to return items. 
Online marketplaces, like Amazon, aggregate tons of sellers in one place. If you're trying to buy from a marketplace like this, make sure you verify who the seller is. Ideally, the seller is the same as the brand of boots you're looking at. But if you don't recognize them, it might not be the most reliable option. You can look for reviews of that seller, but even a five star rated seller can be unreliable. 

What's the return policy?
This is another question that might influence where you decide to buy your boots from. Make sure you know: 
Do they even take returns?

Some brands don't even allow returns, especially on sale items.

And if they do take returns,

will they refund your original form of payment

or just provide store credit? This might also vary by sale item.

Lastly,

what will the return cost you?

Some stores provide you a shipping label for free returns. Others leave it completely up to you to set up a return AND pay for it. 
Whatever their return policy may be, you should do the research before placing an order to decide for yourself how much effort and money you're willing to put into returning an unwanted item. 
What's my size in this brand, though?
Potentially one of the most important factors in buying a new pair of boots is choosing the right size. We've talked about how important sizing and fit are when it comes to comfort and support in a pair of work boots.  Since not all brands or styles are sized equally, it's important to do your best to choose the right one. 
Some brands include sizing charts that show the exact dimensions of their shoes. Just make sure to measure your feet correctly, and these will probably be the most effective way to find the right shoe size. 
Other brands and/or retailers will list sizing suggestions based on how customers typically adjust their sizing by brand. For example, they may provide guidance to go a half size up or down from your regular shoe size OR they might describe how their sizing compared to brands you are already familiar with. 
For more personal advice, scan the reviews or double check online forums. A simple search like, "Are [insert brand name] work boots true to size" will probably lead you to a handful of forums where you can get a good variety of input from people that actually own and use those boots. 
How am I supposed to know if the quality is good enough to make the purchase? 
You can look to product reviews first, but it's important to actually read them rather than just looking at the number of stars and hoping for the best. Pay attention to the more recent reviews, read through them, and at the very least, make sure they're not all the same bot generated review. 
Look at other  online reviews. There are tons of blogs and YouTube channels dedicated to testing out and reviewing things like work boots. The caveat here is that a lot of these review pages are paid to do the review or are at least given the products for free. While that does introduce the potential for bias, a lot of them will still give their honest opinions. After looking through a few of these reviews, you can get a good grasp of the general pros and cons of the boots in question. 
When it comes to boots, you can tell whether something is worth the price by double checking the materials, construction, and safety ratings. Some premium features to look out for: full grain leather, Goodyear Welt construction, ASTM safety ratings. 
--
At Ever Boots, we pride ourselves on making high quality, durable boots for a very reasonable price. We believe that we can still use the best materials, NOT cutting corners, and still offer the best for our customers. And for the past five years, we have. Learn more about the styles and features of EVER BOOTS products here. 
Leave a comment
Comments will be approved before showing up.