How Dry Are Ultra Dry Boots?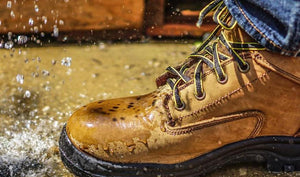 If you have been looking for good landscaping boots that will prove to be really dry boots and you have to work in wet weather conditions or in areas that are swampy and muddy with a lot of water around, then you will be pleased with the ultra dry boots.
This is the brand that claims that they have top quality ultra dry boots. However, with the ultra dry boots your feet will remain dry at all times just like you need them to be.
Indeed, it is important for your feet to be dry due to the fact that when your feet are dry, this helps you to stay warmer. This is based on the reality that humidity reduces the heat of your body, which could result in you becoming ill, such as with a cold or pneumonia.
The "Ultra Dry"
You will appreciate the Ultra Dry Boots, as they are insulated well and are truly waterproof. These boots can be used as great hiking boots, as they are truly rugged and can handle the tension of steep inclines and tough terrain, which are a part of many hiking expeditions.
You will appreciate that your feet will stay both warm and dry every time that you use these top class work boots. Do note that these boots are also intended for usage during cold weather, as they are insulated.
When you want boots that provide good traction, so that you are not slipping around on ice or losing your balance in areas that are muddy and swampy, then you will be impressed by the provision of traction that is ultra aggressive that these boots are geared to provide you with each time you wear them. 
"Waterproof Construction Work Boots"
When you really need boots that will keep your feet ultra dry, because you tend to work in a lot of damp and wet conditions, then you can have the confidence that the Ever Ultra Dry Waterproof Construction Work Boots will truly be up to the task of keeping your feet dry every time you wear them. Therefore, you will be able to focus on your work instead of wet feet. These boots are made to be solid, so that they can handle many rugged conditions, which means they are ideal for when you are doing a lot of intense landscaping and other tough jobs. You will appreciate the fact that these boots are highly durable and will last for many years. This is truly a brand name of boot that you can trust. Your feet will not become fatigued when you are working in these boots for many long hours due to the usage of mid soles that are designed to be anti-fatigue for your added benefit. Sometimes other boots may seem stiff and harsh on your feet, but you will notice how comfortable these boots prove to be the first time you wear them. The treads on these boots are shock absorbing to allow for better flexing when you are walking and working. 
Since you are in need of ultra dry boots to ensure that your feet will be dry at all times, you really should now consider the Ever Ultra Dry Waterproof Work Boot. These boots are made with real quality and tend to outlast many other brands of boots on the market today.
Leave a comment
Comments will be approved before showing up.