Ever Boots Latest Boots 2019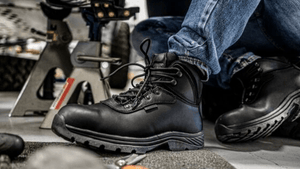 Introducing a snapshot of our three newest additions: the Weldor in a new black colorway, the upgraded Tank S, and the brand new Submarine waterproof steel toe boot.



The same Weldor you know and love, but in a sleek new colorway. You've consistently rated the Weldor as one of the most comfortable pair of boots you've ever worn, even right out of the box. So we wanted to provide you with another option, just as comfortable and just as good looking. The Weldor is one of our favorite boots for everyday wear and on the job site.



The Tank S gives you the classic work boot silhouette with added steel toe protection for those who need it. They check off all the necessary boxes: Steel toe, non-slip soles, breathable leather, and supportive insoles. We got all your work boot basics covered. 



You asked for it, and here it is! Say hello to the brand new Submarine, the newest addition to our work boot collection. The Submarine is our waterproof steel toe work boot with optimal safety in an all black design. These boots are a heavy duty solution to any and ALL jobs, providing superior protection without sacrificing comfort. 

We know how important your boots are, and we're committed to providing you with the very best quality and durability all while still being affordable. Thank you for making Ever Boots your choice for dependable footwear. 
Learn more about the styles and features of EVER BOOTS products
here
Leave a comment
Comments will be approved before showing up.