Do leather boots need to be waterproofed?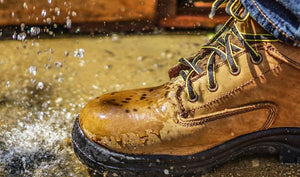 Leather construction boots can soak up water, so you'll need to implement procedures to protect them. In this guide, you'll learn how to waterproof a pair of vulnerable construction boots in a variety of ways. If you need standard waterproof work boots or regular waterproof work shoes, you can always buy footwear that's already enhanced from our store.
Oils for Heavy-Duty Construction Work Boots
Oils can block unwanted moisture that can destroy a pair of high-performance work boots. However, you should never apply too much oil on a leather boot because the excessive moisture will make the leather fibers separate.
A Silicone Polymer Spray is a Quick Waterproofing Solution for Boots
Most silicone polymer sprays are made for commercial use, and they're available at many sporting goods stores. To produce the best results, you'll need to follow a few steps before you apply this spray on your boots.
Because silicone is the key ingredient that creates the waterproof seal, you must clean your boots thoroughly in advance to strengthen the spray's adhesive properties. To effectively coat all nooks and crannies, stuff a few pieces of crumpled newspaper inside each boot. The wads of paper will help both boots hold their shape as you spray the silicone solution on the leather. Typically, you'll only need one coat of spray to waterproof boots. However, if the layer is too light or thin, you may need to add a second coat.
An Acrylic Copolymer Spray Works Well on All Work Shoes
Thanks to new formulas, acrylic-copolymer sprays are now one of the newest waterproofing solutions for work boots. When compared to other waterproofing products, an acrylic-copolymer spray is probably the best option as it can block moisture without restricting airflow inside a boot.
This product contains strong chemicals, so you must always use it in a ventilated area. Also, after the sealant sets, its moisture-blocking properties may fade away, which is why you might need to re-apply a new coat periodically in a ventilated space.
Creams Can Protect Your Boots
Creams are made of natural ingredients, so they can protect your leather and the environment. When shopping for a cream, buy a product that contains lanolin as this is a type of sheep's wool oil. Throughout many centuries, many industrial workers have used creams with lanolin oil because they can
Treat many kinds of leather

Harden when cooled

Make leather pliable
Pastes Can Waterproof Inexpensive Work Boots
Pastes are available at a variety of stores, and they're easy to use. However, you'll need some elbow grease in order to create a solid seal on your boots. After you've covered both boots with a paste, you'll need to give the product time to dry. You must keep your boots away from moisture until the paste dries.
We sell dozens of waterproof boots for men and regular boots. Visit our store today, and browse our large inventory that includes the latest men's waterproof work boots, trendy waterproof boots for men, and more.
Leave a comment
Comments will be approved before showing up.