Cool, Strong and Shock-Absorbing Outsole Boots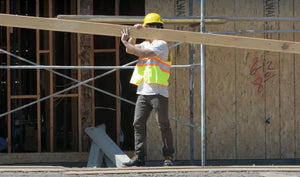 As the American Academy of Pediatric Sports Medicine (AAPSM) explains, the outsole is the outermost bottom layer of any shoe.
This means the outsole also has a shoe's toughest job. It has to literally keep you on your feet! If your wedge work boots don't come with a strong, cool, anti-slip, shock absorbing outsole, you take a safety risk every time you slip them on.
But just because the outsole has a serious job doesn't mean your boots can't be comfortable and stylish as well. In this post, learn about the new breed of cool, strong and shock-absorbing outsole boots that look as good as they feel.
3 Key Reasons to Choose Wedge Boots for Men
As you've likely noticed, like boots themselves, outsoles can come in all shapes, sizes and colors. 
As Hix Magazine for Men explains, it is important to match up the outsole type with the job type.
Learning to do this helps you accomplish three key goals:
1.
Cuts down your shopping time!
You work hard and the last thing you want to do is burn through your free time spending all that hard-earned cash.
So when you know you need wedge boots for men, for example, you can skip over all the other boot types and go straight to the type you need.
2.

Ensures you stay safe on and off the job site for the long-term
.
Time is money you can't get back. Wearing the wrong boots on the job site risks more than just lost work time - it risks your career as well.

3.

Makes work and leisure more comfortable and enjoyable
.
There is a reason different outsole types are recommended for different professions. Not only will choosing the right boot outsole keep you safer, but it will ease work aches and pains and keep you more comfortable, productive and happier.
Meet the Wedge: Match This Outsole With Your Profession
Do you work in framing, construction, workshop or roofing? You will get more stability, comfort and mobility with a wedge outsole.
This YouTube video goes into great detail about what makes the Ever Boots Weldor Men's Moc Toe Wedge Work Boots with Goodyear welt construction the best choice for construction sites.
Not only is the anti-slip wedge outsole less likely to pick up and track debris that could limit your traction, but you will get a great deal of pressure relief you wouldn't find with a traditional heel work boot.
The addition of unlined real leather enhances breathability to keep your feet cool and dry even in the dead of summer. The leather is soft and supple so these work boots are wearable right out of the box - no break-in time required.
Shop online for cool, strong and shock-absorbing outsole boots. Choose the Weldor Men's Moc Toe in black or brown and add a durable, lightweight, protective and water-resistant work boot to your long-term, year-round, work site and leisure time wardrobe.
Leave a comment
Comments will be approved before showing up.