Can Leather Boots Last Forever?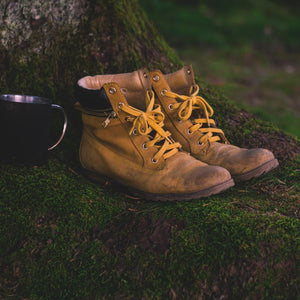 When you buy a new pair of boots, especially work boots, you want them to be durable and last a lifetime. Even the best construction boots will likely begin to show wear  and  tear after a few years of solid usage. However, the two key factors to finding a pair of work boots that will last for years and years and require only minimal repairs are quality craftsmanship and strong materials.
Like any fabric or material, leather will naturally degrade over time. However, boot makers have chosen to work with leather for centuries because it has proven to be an incredibly durable, versatile, and wearable material that also has natural weatherproofing capabilities.
But will leather boots last you your whole life? The answer is yes and no—it will depend on usage, the occasional repair, and consistent upkeep. Below you will find some of the best ways to keep your leather boots in mint condition for years to come.
Usage
How long your leather boots last will largely depend on how you are using them. Even the best leather boots can degrade if exposed to certain environmental conditions. Not only is inclement weather a potential risk to your boots, but also things like chemicals or salted roads can reduce the lifespan of your leather shoes.
You shouldn't skimp on quality when it comes to work boots or other leather boots. A cheap pair will likely only last you around six months of regular usage. In ideal environmental conditions and when looked after properly, well-made and high quality leather boots can last tens of thousands of miles worth of usage.
Repairs
You might think that if your boots require repairs, that you might as well just buy a new pair. However, when it comes to well crafted boots, it can often be a smarter and more affordable choice to get them repaired either with the manufacturer or at a local shoe repair shop.
A quick resole or restitching will take minimal time and money to have done and will get your shoes back to mint condition. Even better, you will not have to worry about breaking in new shoes again or have any concerns about fit or suitability.
Upkeep
To make sure your shoes last as long as possible, upkeep is vital. There are a few simple things you can do to extend the lifespan of your leather boots.
Protect: before you step outside in your leather boots, spray them with a protective spray that will repel water and any other liquids that might spill.
Moisturize: leather needs to be kept supple and moisturized, especially in colder seasons. This will prevent cracks, maintain shine, and help the leather last longer.
Clean Regularly: if possible, you should try to clean or at least wipe down your leather boots each time you wear them. This will remove salt and other sediments before they have a chance to infiltrate the boots seams and cause long term damage.
Add a Sole: some boots will already have a good rubber sole, but for those that don't, you may want to add one. A thin rubber sole can be added at a low cost and will greatly protect your shoes from the elements as well as normal wear and tear.
Buy Leather Boots You Can Trust
Very well constructed boots like those made by
Ever Boots
are designed to last for decades. If you have any questions about sizing or are looking for the perfect fit, contact our team today.  
Leave a comment
Comments will be approved before showing up.