Can I Get Away with Wearing My Work Boots on the Trail?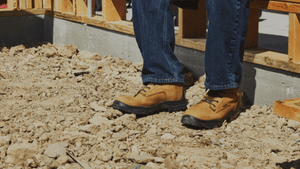 A pair of work boots can be a pretty big investment, and for all of the comfort and support they offer, you may be considering using your boots outside of work. But before you start going double duty with your work boots, there are a few things you should keep in mind.
Think about the BUILD
Your work boots were made for a work site. That means a sturdy build coupled with safety features like a steel toe keep you safe in a potentially hazardous work environment. These features make your work boots considerably heavier which may not serve you well on a hike where you may encounter situations that require you to be light on your feet. While hiking poses its own set of hazards, they don't really necessitate a full blown steel toe for protection.
Think about the FLEXIBILITY
Similarly the sturdy work boot construction offers good ankle support and some mobility. But when it comes to hiking, you may need more flexibility in your boot to uneven ground and varying trail conditions.
Think about the STABILITY
While your work boots may have non-slip soles that work great on wet and dry constructions sites, you're bound to encounter all types of different terrain on a hike. Your work boots will serve you well in some situations, but not all. Hiking boots are designed with more grooves to improve traction on different terrains.
Think about WATER RESISTANCE
Water resistance is another feature you should consider. Not all work sites require a waterproofed boot, so taking yours onto a trail isn't the best idea. Water damage to unprotected shoes can damage the materials and cause bad odors if not dealt with correctly.
Long story short, your work boots should suffice on shorter, easier hikes. They are built for comfort and stability after all. If you really want to use your work boots for hiking, the Ever Boots Ultra Dry is your best bet. You'll be well supported and protected while the lightweight construction won't tire you out over long distances. And of course, its waterproof full grain leather is ready for any kind of hiking conditions.
But just like any other hobby, having the right equipment makes a big difference in your experience. A pair of dedicated hiking boots will serve you much better than your work boots if you plan on walking longer distances or hiking more challenging trails.
Learn more about the styles and features of EVER BOOTS products here
Leave a comment
Comments will be approved before showing up.