Built Like a Tank: The Perfect Construction Boot Gift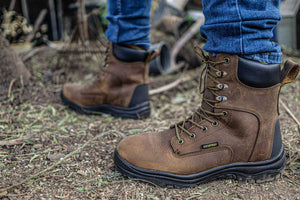 If you need some last minute inspiration for holiday gifts this year, then look no further than the wide range of construction boots available at Ever Boots. There are a number of strong models available for anyone who works on a construction site, in a workshop setting, or simply works on their feet all day and needs additional foot support that a structured boot offers.
One of the best construction work boots available at the moment, is the Tank S model, which is built to last and designed for ultimum comfort and safety. If you have a family member or friend who uses construction boots at work, then this is the perfect gift that is both stylish with a timeless design and completely practical as it is something they will use every single day.
From the 11-20th of December the Tank S model can be yours for 35% off its original price! This is a huge savings on a boot that is built like a tank and will last for years to come.
FInd out more about the features of the Tank S construction boot below and why we think they are the best present for 2021.
All Round Use
The Tank S is built for all types of work, including construction, warehouse work, yard and gardening work, and mobilizing near concrete and cement. This versatility shows that these construction work boots are flexible enough for quick and efficient movement, but safe enough for the risks that exist on any construction site.
Steel Toe Protection
One of the best things about the Tank S is that it is a steel toe work boot which means it will protect your feet from all manner of injury and harm. Anyone who works on a construction site should probably invest in a pair of steel toe boots.
There is a piece of metal inserted around the top half of the boot which ensures that the toe is completely protected from things like falling objects which would otherwise penetrate the leather and harm the foot or heavy blunt objects that could break toes and other bones in the foot.
Steel toe boots also protect from compression risk so all manners of dangers will be avoided and mitigated at the workplace.
The Best Quality Materials
The Tank S has a signature design traction tread on the bottom of the shoe to ensure that the wearer will not slip or trip up when working. Traction is essential for any pair of work boots because it allows the wearer to navigate sometimes difficult work sites with confidence, including going up and down ladders, walking on scaffolding, and across the uneven and sometimes slippery terrain.
The Tank S is also made of high quality, soft nubuck leather and Goodyear Welt construction. This combination results in a very long lasting boot that will see you steady on your feet for years to come. Leather is a great option for durability and longevity of wear so you do not worry about the material fading or breaking apart.
A High Level of Support
Another great benefit of the Tank S are the anti-fatigue steel shanks which are included in the design. This allows for a very high level of arch support which is essential on stairs and ladders at work sites.
There is also a very durable outsole made of rubber, which will keep the wearer feeling stable and secure even when walking or working on gravel and very uneven surfaces.
Leave a comment
Comments will be approved before showing up.