Best Work Boots to Wear in the Snow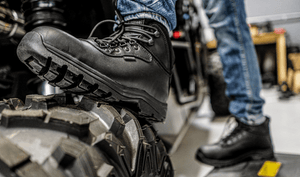 Winter is coming! And as you start preparing for the cold, you might forget to grab something for one of your most important tools: your feet! Keeping your feet warm is an integral part of regulating your entire body's temperature. So getting the right type of work boots is key for staying comfortable in the cold, especially if you live in an area that gets a lot of snow. 
Here's what to look for in a pair of snow-ready work boots:
Waterproof Leather 
First things first, what kind of material makes for a good snow work boot? You'll want a leather upper and it should definitely be waterproof. The only thing worse than being cold, is being cold AND wet. So waterproofing is a priority here. 
Leather is still ideal in snowy conditions because it can repel water while still being breathable. While it is possible to waterproof a regular pair of workboots, you'll get a much more reliable and durable seal from a pair that have been constructed with waterproofing in mind. 
Goodyear Welt Construction
It's a well known fact that Goodyear welt construction is the gold standard for high quality footwear. And that's because it not only makes your boots comfortable and resoleable, but also virtually waterproof! 
High-cut or close to ankle
Look for a boot that is either high-cut or allows you to easily tie the boot opening close to your ankle so you can ensure that snow doesn't get inside your shoes while walking through reasonably tall snowfall. It's unlikely you'll be working through 2 feet of snow, but even with a few inches of snow, you'll want to make sure nothing can get in. A waterproof upper won't be able to do much if moisture is getting inside through the opening. 
Insulation 
Some boots have built-in "thinsulate" insulation for added warmth. While it's definitely helpful, you might not need it unless you live in a particularly cold climate. Good quality leather provides plenty of insulation and can be worn year round. 
Our Pick: Ever Boots Submarine
The Ever  Boots Submarine is our waterproof, steel toe boot. The ultra waterproof leather keeps moisture out while providing adequate insulation so you stay dry and warm. And the oil and slip resistant rubber soles offer stability and traction on wet surfaces. 
Wool Socks 
To double up on insulation, you can always wear a pair of wool socks. The natural fibers are ideal for maintaining warmth while wicking away sweat so your boots stay dry on the inside as well. 
In short, pay attention to your feet when gearing up this winter! Whether you need them for work, or just want to be prepared for colder weather, a good pair of waterproof work boots can help keep your feet comfortable and dry so that you can stay safe and avoid injuries. The Ever Boots Submarine will have you covered when it snows, but are also a great boot to wear year round. 
--
At Ever Boots, we pride ourselves on our making high quality, durable boots for a very reasonable price. We believe that we can still use the best materials, NOT cutting corners, and still offer the best for our customers. And for the past five years, we have. Learn more about the styles and features of EVER BOOTS products here. 
Leave a comment
Comments will be approved before showing up.