Best Industrial Work Boots for 2020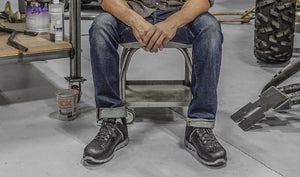 Every year, manufacturers of stylish construction boots come up with new designs to attract buyers. You can't really blame them for doing so since it is important to come up with stylish products to impress the masses. You would want to do something to outdo the rest of the competition. It is important to invest in durable boots when you know there is a huge chance of getting injured at work. When you can't work, then you can't earn money for your family. Here are some of the best work boots for the year:
Caterpillar Men's Second Shift Work Boot
This industrial work boot ticks all the boxes when it comes to things that you are looking for in an industrial working boot. It is pretty durable so you know you are going to be stuck with it for a long time. In addition, it looks great so there is a great chance that you will feel very comfortable once you get to wear it. There is a reason why Caterpillar has been making magnificent durable work boots for a long time. They are a recognizable name in the industry and will continue to do so for a long time.
Timberland Rigmaster XT
This industrial work boot is waterproof so it would be alright to wear it in areas that are often wet. That does not mean you must abuse that feature though. In fact, better remember that it is a must to clean it every now and then. In addition, it looks great as you will definitely catch the eye of people that pass by. Best of all, it helps prevent any germs from getting inside the boot. Thus, you won't have any problem when it comes to debris getting inside your boot.
Ever Boots 'Warepro'
When it comes to comfort, this shoe is often number one on most people's list. The comfort is undeniable and you will know right away that you made the right choice the moment you wear it. It even comes with a sole that would prevent injuries from happening. You know you would want to check if you have life insurance when you work in a hazardous environment. Hence, it is a good thing that this industrial working boot will reduce the chances of you getting into an accident. The last thing you would want to happen is to get confined in a hospital in the middle of a project at work. 
When choosing durable work shoes, better keep in mind the conditions that you work under at your workplace. The durable boots you choose would depend highly on where you are working. If you need to find out the common injuries that happen in your workplace, then do so immediately. That is something important you must know because injuries must be prevented at all times. Also, better make sure to try and fit the working boots several times so you will feel comfortable every time you wear it.
Leave a comment
Comments will be approved before showing up.