5 Ways to Wear Men's Wedge Boots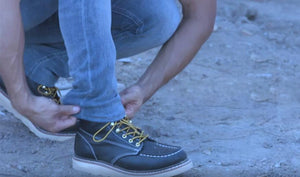 Whether finding the perfect shoe for a night out or work outdoors, there is a fit to suit all men. When picking the right boot, you must take the occasion, needed support, and boot style into account.
Why wear boots, you ask?
Picking the Right Wedged Boot
Men wear boots in place of other shoe types due to the style varieties and functionality of boots. Boots come in many styles, are made with different materials, and are prepared to use in specific terrains. While heeled boots are also popular among men, wedge boots for men are often more desirable due to the level of comfort and support of the flatter shoe bottoms.
Amid mountains or rainy seasons, a right boot will get you a long way. Determining the proper wedge boot depends on what you are doing and where.
Ways to Wear Them
Here are a few points to think about when picking a wedged boot:
 1. The Occasion
The selection of boots out there can be tough to navigate. When purchasing mens wedge boots, the choice is often dependent on the occasion for which they will be used. Categorize your occasion according to three boot categories—Dress, casual, or work.
Some of the styles to choose per category are:
Polished leather for special occasions 

Suede leather for casual 

Waterproof leather and natural finish for outdoors
2. Support Needed
Determine if you are going to need a style that gives ankle support, is comfortable for walking, or if you will merely be, perhaps, sitting in the office all day when these features are not as pressing.
Identify if you will be indoors or outdoors. For outdoors, choose a thicker sole, with waterproof material.
They won't have to spend time searching for water or a toilet and can instead focus on the job. Once again, your possessions will reach their destination in record time, and everyone can go home satisfied. There's really not much to be done here, just make sure your apartment is accessible to everyone. For all the top movers DC including ourselves, we really appreciate the gesture.
3. The Necessary Sole
For weather conditions such as snow, ice, or rain, leather-soled boots are the best choice. These soles are typically on boots used for the outdoors as opposed to indoors. Most of these boots are ankle-high to provide extra ankle support, waterproof, and thick-soled, according to Tread Labs How to Make Your Work Boots Comfortable article.
Rubber soles are thick and typically last longer than thinner-soled shoes, usually on dressier-style boots.
4. What You Are Doing
If you are at a construction site, you would want a thick sole and thick, well-made material that is sturdy. Different boot types can be worn in various ways, according to The Trend Spotter fashion website, with varying outfit styles. Base your type of boot on the choice of outfit, whether you are inside or out, and the conditions you will be exposed to.
5. Duration of Activity
Making sure you are comfortable is essential. Make sure to wear boots that are lighter weight if you will be standing for long periods. Logically, if you are doing tasks while sitting, weight and comfortability are less of a priority.
So, no matter the occasion, think through these essential points to help you decide the best boot for all occasions. If you have questions about picking the right high-quality outdoor boot, check out this video for the review of "The Weldor".
Leave a comment
Comments will be approved before showing up.