5 steps to choose a pair comportable work boots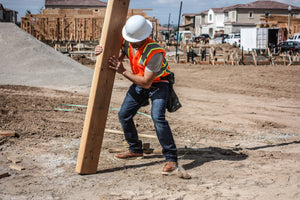 Some of the most important pieces of gear you'll need on your construction site are work boots. Not only do they keep you more comfortable, but they also protect your feet from injury and help to prevent long-term foot problems. But with so many different styles, it can be difficult to know which ones are right for you. This blog post will give you 5 steps to finding the perfect work boot for your needs!
1.Consider your environment and future use
Water Resistance – Ever wonder the difference between water resistant and waterproof? Boots with a membrane (Gore-Tex) are usually more expensive, but they do an incredible job at keeping your feet dry. Make sure to test them out in wet conditions before buying!
Safety Toes - Safety Toes are a necessity on some job sites. These shoes have steel toes that can make your feet cold in the winter and add weight to them as well. Composite protective toes replace these metal pieces, making for less-bulky footwear with more protection than before!
Insulation – Insulated boots are a must for outdoor use and can be found in both summer and winter styles. Worth noting is that insulated boots will keep your feet warm during the cold months, but may make them hot in warmer weather. Consider fabric or mesh uppers to avoid this issue when shopping for an everyday boot—they're not as durable, though!2.
In order to have a pair of boots that are perfect for you, it is important not only to get the right size but also take into consideration how your feet will change and swell throughout the day. For example, if you buy half a shoe too big at first this can give room for them swell during work hours as well as extra layers in wintertime when they may shrink more often because their socks might be thicker with less air flow inside shoes.
3.Be sure they are made of quality materials
UPPER MATERIALS
In order to make work boots last longer, it is important that the upper materials are made of quality. The most common choices for these would be:
-Leather  Each pair of Ever boots is made of selected high-quality leather
Leather shoes are the most popular type of footwear for workboots. It provides many benefits, one being that leather is breathable and great when it comes to air circulation. Leather also absorbs moisture which prevents bad odors or possible bacterial growth in your boots!

Nylon: The nylon material makes these boots lightweight and breathable, but they are not as rigid. There is usually mesh panels to keep your feet dry even after a full day of work!

Rubber: Rubber boots have many perks and are an ideal choice for those who do not want to worry about water resistance, durability, weight, or fit.
SOLE MATERIALS
The sole is one of the most important aspects for any shoe, but it's particularly significant in safety footwear. A good solid grip on an object should be enough to keep you safe from a fall and sharp objects.
Rubber: This is the most common material that you can see in many of work boots available. Compared to other materials, it has a solid resistance against oil and abrasion which makes this one more durable than others.
TPU: TPU is a thermo-polyurethane material invented in the 80s. It's oil and abrasion resistant, which means it doesn't wear out as fast when exposed to these things. Compared to rubber soles, TPU are lighter weight and can resist splitting so they're an excellent choice for durability!
EVA: EVA is a material known for its unparalleled comfort and stability. It's often used in the middle of shoes, where it provides your feet with just enough cushioning to make them feel at home on those hard high heels!
If you're working in an environment with high risk from falling objects, don't forget to wear boots that are integrated with excellent toe protection. This will protect your toes if there's ever a mishap!
Steel: Steel is a great material to use when you need protection, and it's excellent at conducting temperature. But steel can be heavy in comparison to other materials like leather or rubber-soled shoes.
Composite: Composite toe protection is a good choice for those working in metal-free environments. Compared to steel, composite boots are lighter and can offer the same level of structure integrity when it comes to protecting toes from injury.
New boots can be a bit stiff, but with some quick adjustments and upgrades you'll have the perfect winter boot for hiking through snow. You may not know this, but your feet swell in cold weather so it's important to get new shoes or insoles that will provide additional arch support. This is vital if you're on your feet all day while working outside in frigid temperatures! It's also essential when buying any type of comfortable fitting footwear - just ask someone who has suffered from foot pain due to flat-footedness before they found proper inserts!.
Socks are typically thought of as a small necessity, but the reality is they can make or break your day. A quality pair will provide additional comfort and last much longer than other socks you might find in your local grocery store. It's worth spending that little bit extra to get good quality work socks for those long days on your feet at work; heavier duty boots need heavy duty support from their textile layers! For hiking enthusiasts who want lightweight dryness during hot summer months, specialty hiker's wool blend sock provides just what you're looking for with its quick drying abilities - it also features anti-blister technology which we all know never hurts!
Your feet will thank you for making the investment in a good pair of boots.
Leave a comment
Comments will be approved before showing up.