5 Reasons Why You Should Be Using Wedge Sole Work Boots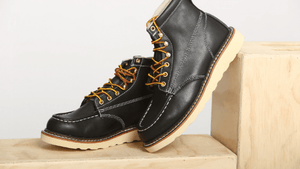 Wedge sole work boots are a top pick for carpenters, weldors, and construction workers. They're characterized by a full wedge shaped outsole, as the name suggests. The Ever Boots Moc Toe Black Weldor is one of our best selling shoes for a reason. Here are the top 5 reasons why you should have a pair of wedge sole work boots right now. 
Added comfort and support

The sole extends through the entire length of the shoe so that there's more contact surface area compared to traditional heeled boots, where there's no tread under the arch of your foot. This helps to absorb shock and cushion your walk when working on hard floors. It greatly reduces the pain and discomfort that comes with being on your feet for extended periods of time. 



Added traction 


The extra contact surface means more stability and traction on the ground compared to traditional work boots, making them ideal across different hard surfaces and especially useful under slippery conditions. 



Super versatile

Wedge sole boots are ideal for basically any job where you're on your feet for long periods of time, working on hard surfaces. From carpentry to construction to farming, you can benefit from the added cushioning and support from the wedge sole. 



Easier to maintain

The wedge sole doesn't track nearly as much dirt or debris as other work boots. Because the soles are flatter, they don't pick up debris like wood shavings, mud, or other grime. That means less work cleaning them and less mess in your house or car. 



They look good



And that's just a fact. They're definitely tough and supportive enough for hard work, but can transition easily into any casual outfit. Dressed up or down, you can get good use out of these when you're not at work. The Ever Boots Weldor even comes in two colorways: a classic Brown, and the new sleek Black. 
A wedge sole is a great all-around boot. If you're looking for an answer to long uncomfortable hours on your feet, then a wedge sole could be the answer. 
Learn more about the styles and features of EVER BOOTS products
here
.
Leave a comment
Comments will be approved before showing up.