4 Things to Look for In Construction Boot Reviews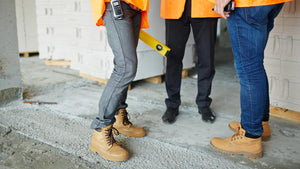 What value do customers place on customer reviews? As it turns out, this is quite significant.
Consumers check internet reviews 93% of the time before buying a product. Furthermore, 88% of consumers believe online evaluations are as trustworthy as personal advice. This goes the same for finding the right construction boots.
Customer testimonials are a powerful sales tool. They provide an unbiased opinion from someone who has been there first, which is far more informative than product descriptions and professional pictures.
But what exactly do customers look for in a review, especially when they need reliable and high-quality construction boots to keep their feet protected while working in a harsh environment?
Honest Reviews
Because honest reviews have such sway, they will lead to an increase in conversions. Did you know that prior to making a purchase, 61% of shoppers examine online reviews? With so many online store alternatives, it's simple to skim through reviews and visit the one with the best ratings.
Customers have tried the product you're eyeing on purchasing and it is essential that you get an idea of the product's quality and features—words from those who have worn the construction boots to help you determine how it's performing.
Reviews that Say Comfort
When purchasing work shoes, look for reviews that state that they are comfortable. Foot ailments such as blisters, ulcers, and ingrown toenails can occur if the feet are rubbed raw and pressed hard for lengthy periods of time.
Look for a review that recommends trying on boots at the end of the day—or shift—when your feet are at their widest due to swelling. If you're trying them on in a store, walking on a hard surface rather than a carpeted showroom floor is also encouraged.
Reviews that Say Safety Toes
It's critical to have the correct boots for the job, and a review that emphasizes a pair of construction boots that keeps your toes safe at all times is something to think about. As a result, choose safety toes that are appropriate for your job and working environment. Aluminum, composite, and steel are the three types of safety toes available.
Look out for reviews that discuss ASTM-certified construction boots for foot protection, they are tailored for different types of jobs. Steel-toes are ideal for construction sites since they can prevent major foot and toe injuries. Aluminum-toed boots are perfect for workers who require light but protective footwear. Composite-toes are non-metallic and ideal for places where metal is prohibited.
A Waterproof Review
Moisture can develop inside your shoes when working outside, which can be unpleasant. As a result, it is critical to read reviews to ensure that the pair of construction boots you intend to purchase is waterproof.
Allow those reviews to assist you in purchasing waterproof boots to keep your feet dry. Waterproof boots often have a PVC or rubber surface treatment to keep water out and prevent it from penetrating the boots.
Check Out Our Customer Reviews for the Right Pair of Construction Boots
Our boots of exceptional quality at an affordable price for all construction industries and handyman lifestyles are tried and have true durability. Product returns are simple and genuine customer service is provided.
Ever Boots offers a wide range of steel toe men's work boots, waterproof work boots, construction work boots, and moc toe boots that can be used in almost any work environment and are constructed to last.
Check out our
customer reviews
and learn why you should buy from a collection of construction boots. To learn more, contact us at 951-268-6549 at Ever Boots today!
Leave a comment
Comments will be approved before showing up.