3 Considerations When Taking Your Waterproof Boots Hiking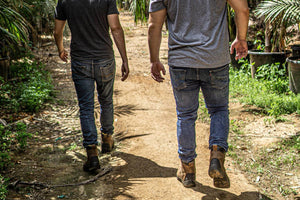 Like other technical gear, hiking footwear needs to be cared for and conditioned before and after use to keep them in good shape for a long time. In this post, we talk about the preparation you need to get your waterproof boots to trail adventure-ready every outing.
Break Them In
Work shoes and outdoor adventure footwear need to be broken in prior to field use. You need to get them in the right fit and comfort to avoid blisters and leg pain later on.
Take walks in them around the house or in the yard. Better if you wear them while you do chores or mow the lawn. Your goal is to loosen the inside to get the right fit and soften the soles to achieve the correct cushion.
You can also try to submerge your hiking boots in water for five minutes. Then, wear them for an entire day with a double layer of socks. This is called the wet break-in method.
Clean Your Hiking Boots
If your boots are not new and have been used before. You need to prepare them for their next use.
After each hike or camping, remove dirt and solid mud from your hiking boots. You can also do this while still on the hike—kick them against a rock, hit them against each other in a clapping motion, or scrape dirt off the soles using a branch.
It is also important to remember that soft mud can suck out waterproofing from nylon and leather hiking boots. Wipe them off with a damp cloth as soon as you reach home.
If your boots were soaked during the hike, dry them slowly. Leather shrinks and pulls apart when dried quickly. Pack them with newspaper and replace the soaked sheets with new ones as needed. Never use a hairdryer on them to avoid peeling.
Check for Tears and Damages
Good hiking boots are built to last, but they can still wear off if frequently used or not maintained. Check for damage and tears as you clean your pair. The seams are prone to unraveling. You need to cut off loose threads so they don't catch on anything that could pull them out.
Some seams also lose waterproofing over time. Polish them with waterproofing spray as needed. The soles and ankle padding can break or thin out. Look for a local boots repair shop that can do resole work on them, or ask the shop where you bought your boots for insoles or repair accessories.
The Best Hiking Boots Are Built to Last
When shopping for hiking boots, look for waterproof and repairable options. Consider them as investment pieces for your outdoor gear. This way you can maintain your outdoor hobby without breaking the bank for a new pair each time.
Ever Boots has an entire collection of waterproof boots. Our Ultra Dry Work Boots are designed specifically for hiking and other wet and harsh conditions. They have anti-fatigue polyurethane midsoles and a shock-absorbing tread pattern. They also come with a 3-month guarantee.
Check our waterproof boots and our other designs in our online shop. If you have further inquiries, contact us at 951-268-6549 at Ever Boots today!
Leave a comment
Comments will be approved before showing up.